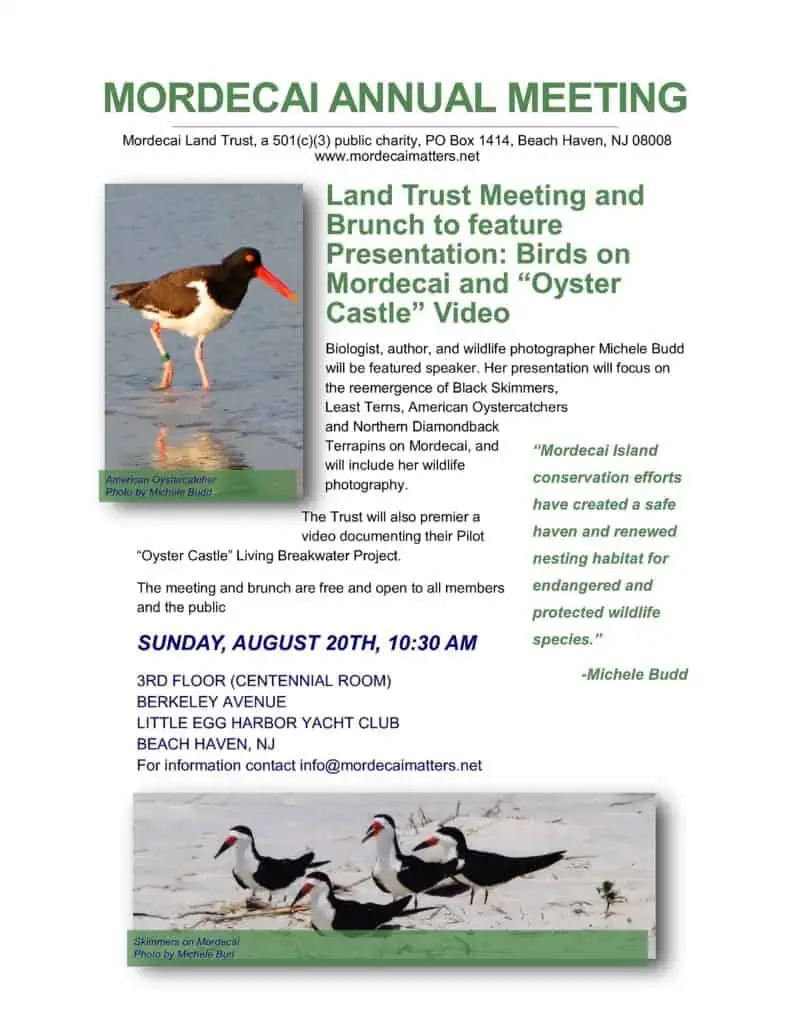 Birds on Mordecai and Oyster Castle Video Highlights of Mordecai Trust Annual Meeting
This year's Mordecai Land Trust annual meeting was, literally, for the birds. Biologist, author, attorney, and wildlife photographer Michele M. Budd was the featured speaker at the Trust's annual meeting and brunch on Sunday, August 20th, at 10:30 AM, at Little Egg Harbor Yacht Club, Beach Haven, NJ.
Budd discussed how the Mordecai Island conservation efforts have created a safe haven and renewed nesting habitat for endangered and protected wildlife species. Her presentation focused on the reemergence of Black Skimmers, Least Terns, American Oystercatchers and Northern Diamondback Terrapins, and included her wildlife photography.
Michele Budd, a self- proclaimed "beach girl," is a biologist and an attorney licensed in the state of New Jersey. She is the author of three books: "Beachcombing: A photographic guide of sea treasures found on Long Beach Island," "Shorebirds on LBI: Photographs and identifications of shorebirds commonly found on Long Beach Island," and "A Terrapin's Tale: A photographic guide of the Northern Diamondback Terrapins on Long Beach Island." She is currently active with the Terrapin Nesting Project, MATES Project Terrapin, and ReClam the Bay, as well as conducting environmental educational tours for the U.S. Fish and Wildlife. Michele holds a B.S. degree in biology from St. Peter's University, an M.S. degree in biology from Seton Hall University, and a Juris Doctor from Seton Hall University School of Law. She is married to Kevin M. Budd, Sr., Esq. and has two children; Alexandra and Kevin Michael.
The Trust also premiered a video documenting their Pilot "Oyster Castle" Living Breakwater Project. The 12" x12" x 8", 30 lb. castles, were placed in the water off the western shore of the island in July, and arranged in a series of arrays by volunteers from Mordecai Land Trust and ReClam the Bay, each design allowing for tidal flow and stability. Subtidal oyster colonies and ribbed mussel colonies placed in the high intertidal zones above them are intended to be established on the castles. This pilot project is the first demonstration to test this concept on a living breakwater.
The Trust members also voted in new appointed trustees for the 2017-2018 year.
The annual meeting and brunch were free and open to the public.
Mordecai Land Trust was formed in 2001 as a 501(C)(3) not-for-profit corporation. Mordecai and its members are committed to the protection, preservation and education of the general public about Mordecai Island with an emphasis on efforts relating to retarding erosion, and protecting and preserving its open spaces and various habitats.
More information about Mordecai Island is available at www.mordecaimatters.net.
Contact: Linda Colgan, President, Mordecai Land Trust:
Cell: 610-761-2652
llcolgan@msn.com