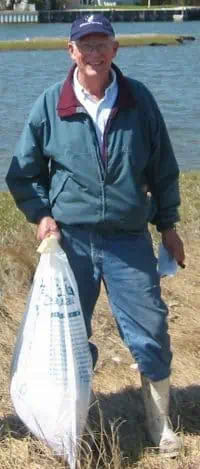 The Mordecai Land Trust is fortunate that we have benefited by having our beginnings shaped by individuals whose contributions continue to influence the spirit and mission of the organization today. Phil Flagler, who died in April 2020, was one of those individuals.
Phil was an initial member of the Little Egg Harbor Yacht Club ad hoc committee formed to investigate how to stop erosion on Mordecai in 1998, which led to the formation of Mordecai Land Trust in 2001. He served as a founding member on the Mordecai Board of Trustees, continuing to serve for many years.
As someone who grew up spending his summers in Beach Haven, NJ, Phil was most at ease on the water and around Barnegat Bay. Mordecai Island was a place he knew well and when he decided to help save it, he gave it his all, which was considerable.
A talented publisher by profession (he was Executive Publisher of the Atlas of Human Anatomy, which is still widely used in medical schools and hospitals), Phil wrote and edited numerous articles for Mordecai Matters, reaching out to public officials for quotes and support. He single-handedly scripted and produced a video explaining why "Mordecai Matters," which aired on the LBI community TV channel.
He also organized and led the outings to Mordecai to measure and document erosion, gathering information that the Trust and other organizations used for years as a data source.
In 2010, when the Trust installed the SWMER II Geotubes Breakwater Project, he began communicating with Pond Recovery contractor Jim Dugan. His article and Jim's blog in the 2010 Mordecai Matters are the definitive summary of the project today.
Phil was someone with the answers when you needed them and the person to call for advice. He attended meetings, fundraisers, scouted the island for clean-ups and his staking expeditions (and windblown early spring weather didn't seem to bother him in the least), and was always a champion for Mordecai.
Mordecai past president and founder Bill Pilling, who knew Phil during those early days, said, "Phil will be remembered for his quick smile, his unfailing good humor, and his quiet competence. Behind the scenes, he gave advice, acted as a sounding board, and was always there to help."
We will remember Phil for his many contributions to Mordecai Land Trust and for his intelligence, friendship, and generosity of spirit. His was truly a life well-lived.
Donations may be made in Phil's name to Mordecai Land Trust below on this web page or by mail at Mordecai Land Trust, PO Box 1414, Beach Haven NJ 08008